Play Mystic Wolf Pokie Machine for Free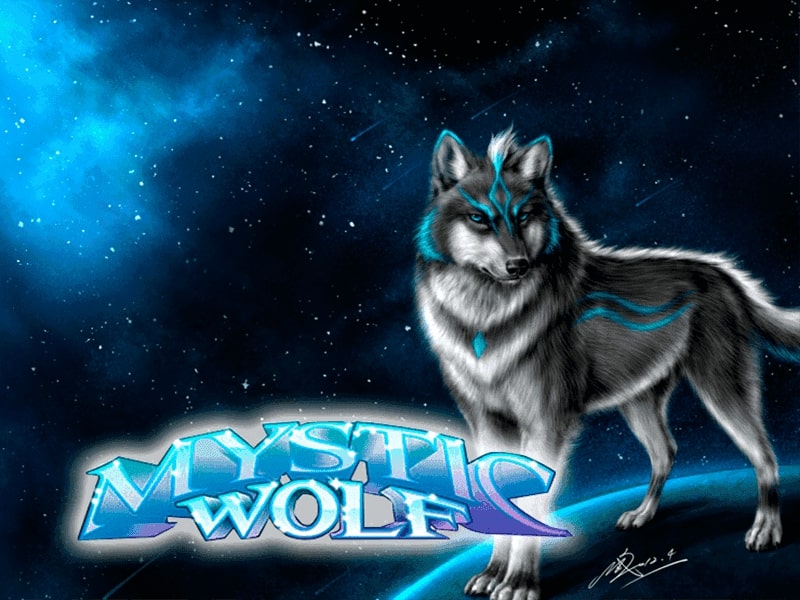 Mystic Wolf game details:
| | |
| --- | --- |
| Software: | Rival |
| Paylines: | 50 |
| Max Coins Per Spin: | 125 |
| Free Spins: | Yes |
| Scatter symbol: | Yes |
| Multiplier: | Yes |
| Reels: | 5 |
| Min Coins Per Spin: | 0.01 |
| Autoplay Option: | Yes |
| Wild Symbol: | Yes |
| Bonus Game: | Yes |
| Jackpot: | 5 000 |
| RTP: | 94.6% |
Background Information
A wolf is a strange animal. On the one hand, it is widely feared by most people as it's viewed as a violent animal which can attack anyone even if not provoked. This assertion has made many people fear and others to 'hate' this animal. However, on the other hand, the wolf in common tales and superstitions is viewed as an animal that symbolises good fortune. In Chinese superstition, lupus symbolises wealth. In all, we can see that the wolf in real life is widely feared, but when it comes to tales, it's widely loved. As such, it's a pleasure to inform you that lupus or rather wolves in this Rival Gaming powered slot are depicted from popular tales hence there is a huge probability that players will fall in love with this slot. Mystic Wolf comes with five reels and fifty paylines.
Background Graphics and Sound
Rival Gaming really took time into developing this slot game as demonstrated by the brilliant graphics of the game as well as the background sounds. The backdrop of Mystic Wolf is set against a full moon illuminating a coastal plain acting as the background. On the extreme edges of the screen both on the sides and on the top and bottom parts are some white feathers. While spinning the reels also, some white feathers will be floating on the screen in beautiful patterns that will mesmerise your eyes. At the top part of the screen, you will see the game logo that guarded by two 'paytable' buttons on either side. At the bottom, you will find the control panel. The background sound of Mystic Wolf depicts the sound that you will hear when a movie starts, i.e., slow but entertaining music.
Reel Grids and Reel Design
The reels of Mystic Wolf are transparent; this means when you are spinning the reels you will see the background graphics showing a full moon. The reels of this slot are designed in a 5×3 design meaning you have five columns and three rows.
Tips on Playing the Slot
In order to fully see for yourself if indeed the wolf symbolises good fortune and wealth, you need to play Mystic Wolf for profits. Playable across most platforms including on desktop computers as well as on iOS, Windows and Android handheld devices, playing Mystic Wolf for real money cannot be that difficult. While playing the game for real money is pretty easy, there are some small issues which you need to look at in order to unleash the full potential of the game. The first of these issues pertain to the paylines. You can adjust the paylines according to your preferences, i.e., either downwards or upwards. The payline range in this game increases/decreases at the fifth interval meaning you can play across all 50 paylines or across 45, 40, 35, 30, 25, 20, 15, 10, 5, or 1 payline. When wagering across all the 50 paylines, the minimum amount that you can bet with is 2.50 coins, and the maximum is 62.50 coins. Additionally, there are the 'Max Bet' and 'Autoplay' buttons which you can tweak to set the maximum bet amount automatically or spin the reels automatically respectively.
Playing for Fun
Mystic Wolf casino slot online does not discriminate as it wants to dispel the notion that wolves are feared and dangerous while at the same time the game sets at entrenching the notion that wolves are symbols of good fortune and wealth. As such, everyone including those who are low on funds can enjoy this game on their devices. To play Mystic Wolf free, players will have to play the game in demo mode where they receive free credits. With these free credits, players can spin the reels until they use up all their credits. It's possible to replenish the free credits during the gaming session; all the player has to do is to match winning combinations. Playing in the demo mode, players can also tweak some settings such as the number of paylines to wager across or the bet amount if they so wish. The importance of tweaking these settings (downwards) is that it saves the free credits.
Symbols
Standard: Different wolves, Diamonds, Full Moons, Silver Coins as well as silver poker symbols.
Wild: The running lupus in Mystic Wolf slot game is your wild. This wild can on occasions shifts its form into taking the form of any other symbol. Whenever the wild shifts its form, it will complete a winning combo. A 5x multiplier is applied to all wins that a wild is a part of.
Scatter: Mystic Wolf slot does not have a scatter symbol.
Bonus: There are two bonus icons in Mystic Wolf game which are the feathers icons and the triangle icons.
Bonus Rounds
The first bonus in this slot game is the Mystic Wolf Super Round. In order to trigger this bonus round, you have to match at least three wolf icons in a row. The most you can match in a row are five wolves, and for doing so, you earn fifty free spins. For matching four wolf icons in a row, you earn fifteen free spins, and for matching three lupus icons, you receive seven free spins. You also need to note that when playing this bonus round, a 10x multiplier is applied for all wins that consist of a Wild. The other bonus round in this slot is the Lunar Phase bonus round. This bonus is triggered only when you are already playing the Mystic Wolf Super Round bonus. You need to land three or more of the triangle bonus icons to trigger this bonus. When you trigger this bonus, you receive an additional three free spins.
Jackpot
When playing Mystic Wolf slot machine online, there is a jackpot that you need to try to hit. This jackpot rewards you with a massive 5000 coins when you land five of the running wolf wilds on an active payline.
Payout Range of the Slot
Diamond icons pay the most in this game. Five of these icons fetch 5000 credits, four of these fetch 500 credits, and three fetch 50 credits while five fetch 5 credits. The sullen lupus in this game carries the second highest payout. For matching five of these icons in a row, you receive 700 credits. For matching four of these in a row, you receive 200 credits, and for matching three of these in a row, you receive 40 credits. The lupus looking up to the sky carries the game's third highest prize. Five of these icons will reward the player with 500 credits. Four of these icons will reward the player with 100 credits, and three of these icons will reward the player with 25 credits. The full moon carries the fourth highest prize of the game. Five of these icons will reward the player with 350 credits. Four of these icons will reward the player with 100 credits, and three of these icons will reward the player with 20 credits. The silver coins fetch the fifth highest prize of the game. Five of these reward the player with 300 credits. Four of these icons reward the player with 80 credits while three of these icons reward the player with 15 credits. The poker symbols fetch the game's lowest prize. The highest payout for five of a kind is 200 credits. The highest payout for four of a kind is 65 credits while the highest payout for three of a kind is 12 credits.
Summary
Rival Gaming in this slot showed that it could compete with the very best when it comes to graphics designing. Players playing Mystic Wolf slot can expect numerous bonus rounds and excellent payout prizes.

Other Pokies
Top Online Casinos Where You Can Play Mystic Wolf